Multi-tenant Control Panel for
Cloud Hosters
CloudPanel is an approved Microsoft control panel that assists you in managing Active Directory and Microsoft Exchange for multi-tenacy. The best part is it is free up to 250 users!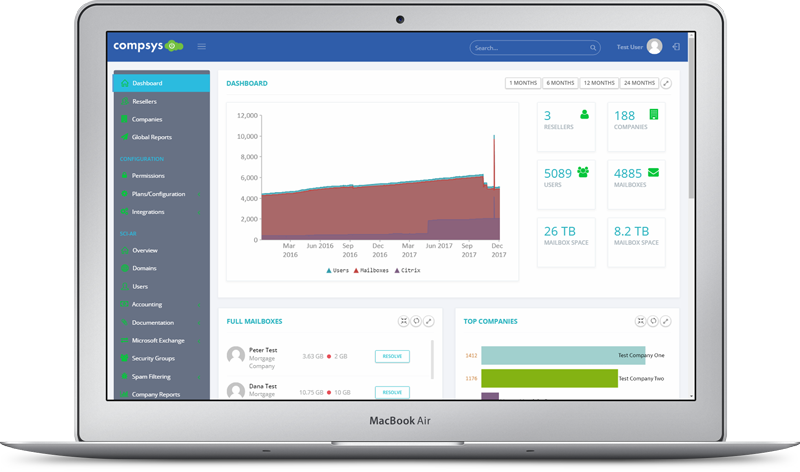 Easy to Use
CloudPanel can make your life easier!
CloudPanel greatly reduces complexity of running your own Microsoft Exchange environment for multi-tenacy. It features a complete web interface that you can customize/brand and even lock down certain permissions so you can assign certain tasks to other employees while not having to grant them full access.
Reseller Administrators
Grant users access to manage all customers under their reseller. You can configure specific roles to prevent reseller administrators from doing certain things. This also functions as providing your helpdesk alternative permissions so they can be locked out from certain tasks like deleting users!
Company Administrators
Give your customers control over their own company by allowing them to login to CloudPanel and have the ability to manage only their company resources. Specific permissions can be granted so you have complete control over what your company administrators can or cannot do!
Branding
Make it your own
CloudPanel allows you to brand the interface with your own logo and support information. Every branding is based on the URL so you can literally have an unlimited amount of brands. You can extend this branding so your resellers can have their information displayed to their customers instead of yours!
Mobile Compatibility
Use on any device!
CloudPanel has a custom interface that will allow you to view and easily use on any device. This will allow you and your customers to manage their environment no matter where they are. Since this is the same web application that you would normally use on your computer, you will still have ALL options and features available!
News
Keep up to date on our recent news!